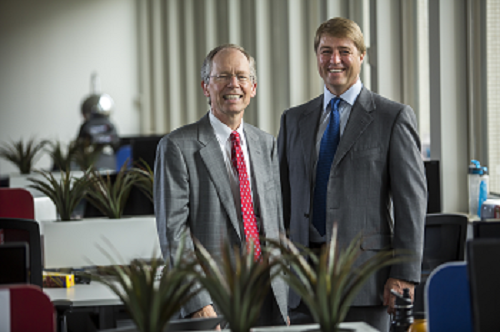 SUPERED WAS FOUNDED IN 2012 BY JEREMY DUFFIELD AND HUGH MORROW AFTER THEY MET AND DISCUSSED THEIR YEARS OF PERSONAL EXPERIENCE IN THE AUSTRALIAN FINANCIAL SERVICES INDUSTRY AND THE CHALLENGES FOR THE FUTURE.
THEY SHARED A COMMON VISION – BETTER RETIREMENT OUTCOMES FOR ALL AUSTRALIANS.
The driving idea was to help super funds help their members get better retirement outcomes by educating, coaching, and advising members on a journey to and through retirement. To build the approach with the member at the centre.
A vision like this required a top team of diverse talents (from advice, investment management, member understanding, communications and stochastic forecasting etc.) which we've built from a mission-driven cadre of industry leaders.
We have now built out the solution required to deliver this vision, but it isn't a one size fits all. Our solution is unique and flexible with deep personalisation capability which means we can help super funds achieve their individual online advice vision.
We also have Retirement Essentials as part of our Team to support senior Australians who have traditionally been ignored or underserviced by the financial services industry.With cutting-edge technology and a service approach that appeals to retirees,Retirement Essentials offers its members a step-by-step guide to helping them to get and keep their Age Pension.
Our Core capabilities:
Member relationship management (advanced CRM with member needs in mind)
Retirement income forecasts as the primary measure of member progress and the trigger to spark member engagement
Digitised and streamlined the Age Pension application process
Education, coaching and advice (SOA) built on adult education/behavioural finance principles
Digital techniques that allow the expansion of advice to a majority, if not all, members
Personalised investment strategies for both the accumulation and draw down phases, to optimise the use of the fund's investment options and deliver members' retirement income goals with the least risk.